Diabulus in Musica – The Wanderer
February 17, 2012 in Reviews by blackwindmetal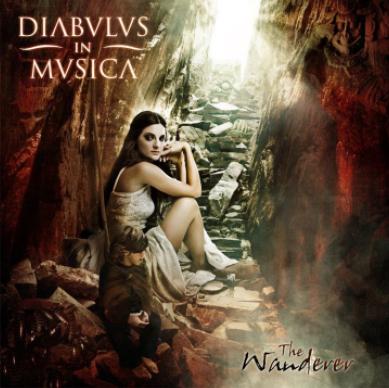 Diabulus in Musica
The Wanderer
2012
For some reason, I'd never heard of Diabulus in Musica until a few weeks ago.  How could this be?  It's a mystery.  Hailing from Spain, this five-piece symphonic power metal outfit is on the verge of releasing their second album, The Wanderer, the follow-up to their debut, Secrets.
Before sitting down to listen to Secrets, I perused some media about the band, and found an interesting criticism from one reviewer, and that is that DiM sounds an awful lot like Epica.  After listening to the album, I couldn't fault the reviewer for coming to such a conclusion, as I found the album to sound so much like Epica I had to shake my head.  While it was a solid, good-sounding album, I did  more auditory double takes that I'm sure my ears are permanently changed.  Adding to the argument that the similarities between Epica and DiM are so strong is the presence of a whole hell of a lot of Epica-connected peeps, and the same is true – in fact there are even more Epica-related peeps in The Wanderer – for this most recent release.  We have sound masterer Sascha Paeth and ex-Epica member Ad Sluijter doing the mixing, and The Wanderer also includes special guest and ex-After Forever member, current Epica member, and current MaYan member Mark Jansen.
The music in The Wanderer is good.  In fact, it's very good.  If you're a fan of the genre, you'll love this.  It's suitably fast, bombastic, heavy, and driven.  Vocalist Zuberoa Aznáre has good chops and is suitably strong and powerful.  There's a bit too much male growling for my taste – more than Epica – but I can live with that.  This is a band that knows how to utilize choirs with maximum effect, and they know their way around vocal harmonies, which were impressive.
Songs that stood out for me were  the ballady (this is me we're talking about – I'm a ballad sucker) "Sentenced to Life", the more complex and progressive "No Time for Repentance (Lamentatio)", despite the growls, and the acoustic but not the least bit light finale, "The Wanderer" which started out with a beautiful Latin choir intro.  It has a cool medieval vibe to it I really enjoyed.  The single, "Sceneries of Hope", which at 3:51 and has a pretty standard, radio-friendly structure to it, was kind of meh.  I did, however, like the synths in this song, and for some reason this is the only track in which the keyboards, performed by Gorka Elso, really stood out to me.
I just felt this album, overall, was…I don't know…uninspired.  In a sub-genre saturated with Epica and Nightwish clones, it was hard for me to not be slightly indifferent about much of The Wanderer's content.  I think all the elements are well-executed and sound wonderful, but there was nothing overly new or mindblowing in here that got me particularly excited.
Allyson's rating 2.75 out of 5