Iron Maiden – Killers
July 24, 2012 in Artist Rewind, Reviews by Kylie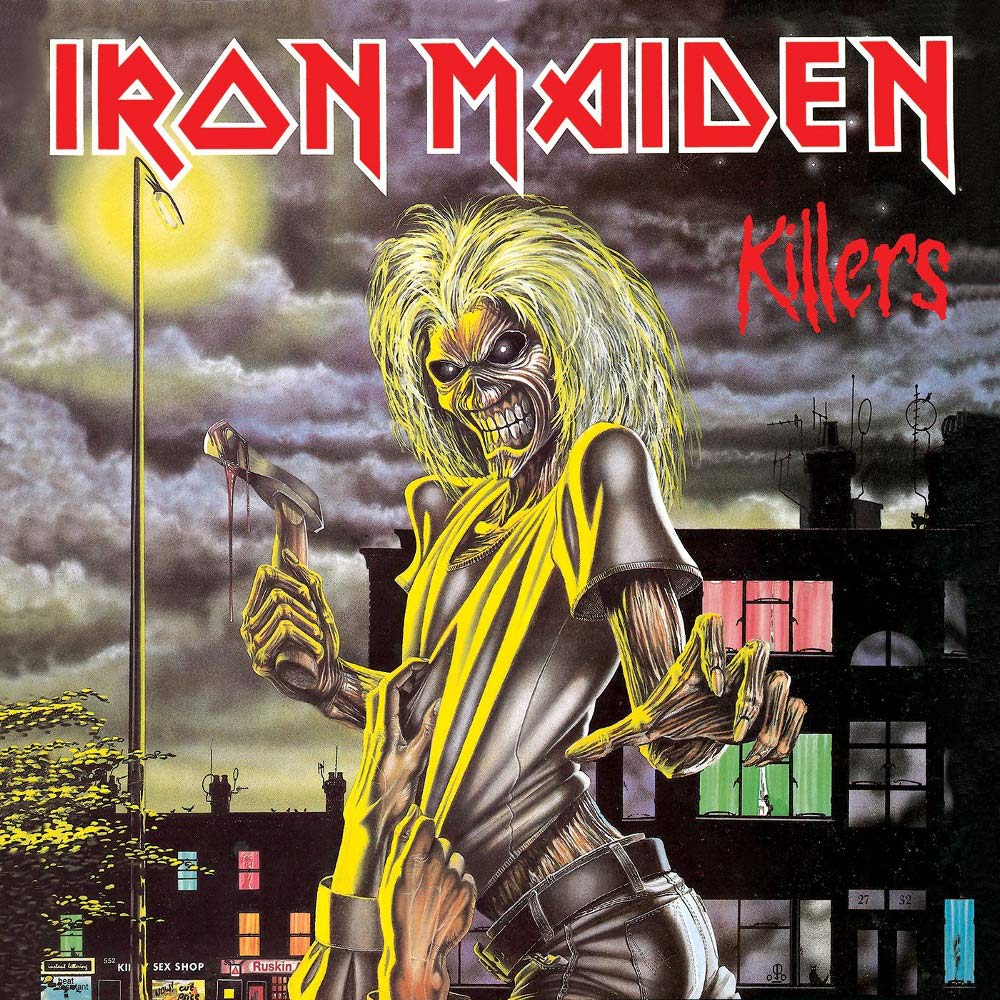 Iron Maiden
Killers
1981
Note to self: don't talk about how much I love Queen in front of Steve Harris, circa 1980, or I'll get my ass fired from his band. Too bad Dennis Stratton had to throw out a few "less than metal" ideas to 'Arry on how to spice up "Phantom Of The Opera," or, then again, it's probably a good thing, since his ousting led to Maiden hiring the guy they wanted back in 1978! Adrian Smith really wanted Urchin to make it, however, what initially started out as a setback led Iron Maiden towards a path of world domination.
Killers would be a minor hurdle to that, though. What's good is incredibly good, but the rest of album is simply lackluster. "Ides Of March/Wrathchild" kicks off in incredible fashion (especially if you heard the Metal For Muthas version from early 1980…a marked improvement!). Great riffs and it doesn't let up at all with "Murders In The Rue Morgue." The next three tunes, however, are what has to be considered the "filler" of the album.
"Another Life" is similar to "Prowler" from the debut, where it's a one minute song repeated. The riffs, leads, and midsection are good, but it's not impressive when you have a 3 minute song that's a minute too long. "Genghis Khan" has some good ideas, but is nowhere near as good as "Transylvania" where the showcase Maiden instrumental is concerned. "Innocent Exile" is like "Another Life," only without the good riffs (the riff under the solo is killer, but the rest are quite meh).
Side two kicks off with the title track, and one of the best songs from the Di'anno era: the intro in particular. "Killers" sounds like a Deep Purple track written by Black Sabbath…crazy speed riffs, some psychotic lyrics and screams, and Clive Burr is the closest thing to Ian Paice without being Ian Paice's genetic twin. Think "Burn" meets "Children Of The Grave."  "Prodigal Son" is the oddball 80s Maiden track…the only song they did that stayed ballad throughout (it doesn't explode into speed metal like "Remember Tomorrow" or "Children Of The Damned," or into an epic prog/power masterpiece like "Infinite Dreams"). Not a bad song, but tracked in the middle of two speed metal classics, "Killers" and my personal favorite lost-classic Maiden song, "Purgatory?" It's a great song, and should have been the closer rather than the drab "Drifter." ("Prodigal Son," that is).
"Purgatory" is a total gem here, buried in the album. Yes, I know I panned a few songs for repeating themselves, but here, it just works, as the lyrics and vocals aren't the real focus of the song (the killer verse riff is!). Actually, this would have worked as one hell of an instrumental, and the harmonies are just lethal. This is a total showcase for Steve Harris's ear for melody, and a taste of things to come (like, "The Trooper").
As alluded to,"Drifter" closes the album out with a bit of a whimper. It's certainly not a bad song, but it really doesn't go anywhere (in the studio, anyways, the live versions are pretty good). If you have any sort of reissue or North American release, the A-side "Twilight Zone" is a bonus track, and it's probably the most forgettable Maiden single up to and including "Out Of The Silent Planet" (mainly because it was only played live once*, not because it was a bad song).
The singles from Killers are totally ignorable since they are all (now) studio version album tracks ("Twilight Zone"/"Wrathchild," "Purgatory/Genghis Khan"). The live EP Maiden Japan is worth tracking down (and if you find a Venezuelan pressing with the alternate cover with Paul Di'anno's decaptated head, let me know…my collection is missing that!), but not totally necessary, especially given the readily available soundboard recordings of the entire shows from the Japanese tour. However, they do not inform the listener to "PRAY ROUD!"
This is the awkward teenage years of Maiden. It's a bit of a loss from the debut (namely that there isn't that one singular showcase epic that totally defines the album a la "Phantom" or "Rime Of The Ancient Mariner"), and it's a mishmash of leftovers from the 70's that weren't cut to tape. Yes, the production is far better (because Martin Birch is physically incapable of making a bad sound), but the quality isn't quite there. Admit it, if this is your favorite Maiden album, it's because of the amazingly badass cover.
*Shepherd's Bush Empire, in 2001
 Kylie's rating: 3.25 out of 5